3A Boys Georgia Olympics Meet Preview
Daniel Haugh of St.Pius X at the 2013 Georgia Olympics (throwerstv)
On the Field
Daniel Haugh from St.Pius HS is one of the top HS Throwers in the USA, specializing in the Discus (196-5) and Hammer Throw. Haugh also can toss the Shot with a pr of 56-6. Challenging Haugh in the SP could be Torace Sturgeon from Hart County (53-1) or Hunter Atkinson from West Hall with a recent mark of 50-7. In the 21st Century, AAA has had some world class vaulting talent. Oconee County's Jordan Scott (04-06 champ) has pr'd at 18-9.25 Outdoors! David Curry from Buford has the top bar coming in at 14-7. Mitt Connerly from Central has a pr of 14-3.50 and OC vaulter Wesley Walters has cleared 14-0. The HJ competition will feature 2 (6-8) jumpers including DeVaunghte Mosely from Henry County and Josh Foxx from Coahulla Creek. In the horizontal jumps Fred Dorsey of St.Pius has a shot to double with best marks of 23-2.75/45-3.5. Sprinter Andrew Slaton from Sonoraville has the top mark in TJ at 45-8.5 and Preston Smith from SE Bulloch is not to be discounted w/ a pr of 45-7.5 K'Lan Harris from Henry County could pull a mild upset coming in with a mark of 22-10.75.
Relays
The Relays are an opportunity for speed blessed teams to get big points and place in the top 4 team positions. The top 4x100m squads in Jefferson are top rated Cedar Grove (41.83) Central (Carrollton) at 42.03, Henry County (42.13) and a unpredictable Elbert County squad (42.34) Cedar Grove has a talented 4x400m squad with a pr of 3:20.94 with Henry County a few strides back in 3:23. St. Pius X should challenge, and watch out for Washington County's Quintaveon Poole as he's known to catch any runner in front of him after he gets the baton...
Individual Prelims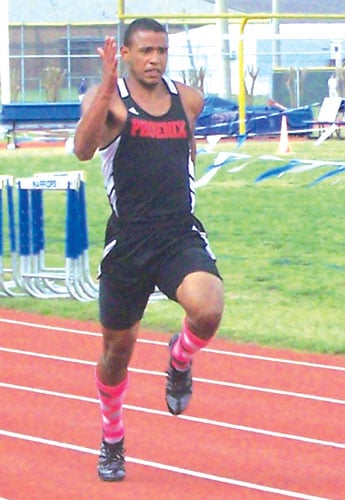 Andrew Slaton of Sonoraville (nwganews)
The 400m dash has been Washington County's Quintaveon Poole's rise to national prominence as the 47.28 laid down at Sectionals is ranked 10th in the USA on MileSplit.com Todd Woodring from Jackson County has a pr of 48.49. Defending 100m champ Andrew Slaton from Sonoraville is favored to repeat with a sb time of 10.58 at Sectionals. Top challengers could be Elijah Ross of Central Carrollton (10.67) Dorsey of St.Pius (10.68) Marquise Dye from Elbert County. the 200m dash will be just as fun featuring Quintaveon Poole from WACO (21.71) Darius Freeman of Cedar Grove (21.7) Andre Burrell of Cedar Grove (21.81) Poole is a huge favorite to take the 400m as he has the #10 time in the USA at 47.28 Todd Woodring from Jackson County (48.49) Samuel McDade of Cross Keys (49.09) and Juan Sims could push for top medals. The 800 meters will be a Q'dance in prelims, but expect St.Pius lads Joseph Ferrugia (1:55) and Andrew Anastasiades (1:56) to separate from the pack the final 300 meters. Harper Sigler (1:58) of North Oconee is healthy this season and could hang with them. Sam Ellis from Decatur has the 4th best time in the field (1:59)
Quintaveon Poole of Washington County
Hurdles
Dye of Elbert has the top time this season in the 110h at 14.25, but Slaton from Sonoraville will be racing to defend his title (14.48 pr) Kevin Johnson from Appling has a pr of 14.87 and is the favorite for the 300h with a recent best of 39.42. Damian Sanders of WACO will be running for team points at 39.60 and Cedar Grove's Joshua Anthony comes in with a 39.90.
Distance
St.Pius X could sweep the top 2 places in the 1600 meter run Thursday evening, as well as the 3200 late Friday afternoon. Austin Sprague will be competing his last time in a Golden Lions uniform, so watch out..Andrew Anastasiades of St. Pius has a sb of 4:21.71 Matt Munns of Blessed Trinity pr'd at Sectionals in 4:22.43. Its wide open for the next 5 medalists including perhaps Harper Sigler of North OC, Alex Murfee of Woodward and Bryce Schuebert from North Hall.
The 3200m race? at Sectionals was again a dance to Q' checking out the times/places. Sprague runs on an entirely different level than the field. Teamate Stephen Martinez has the 2nd best time this Spring at 9:38 with Munns of Blessed Trinity a stride back at 9:39. North Hall could pickup valuable team points behind Quintin Miles and Zack Hill.