Albany Meet Schedule
Girls
For the Girls, its a meet about 3 powerful squads, GAC, Monroe Albany and Westminster. It may come down to the final event to determine a team champ.
Jaeda Hunt of Albany
Its a fact, Monroe Comprehensive (Albany) Girls have thrived on their home track/turf, especially from 2009-2012. Monroe, owns titles in 2001, 2002 (AAAA), dropped to (AAA) winning 2003. The Lady Tornadoes had a drought from 2004-2008, but were back on top from 2009-2012 and reclaimed the honor in 2016. The challenge now, is this public school must compete against metro ATL private schools that can pull talented student-athletes from an area of several million people, fair or not.. Are the Lady Tornadoes up to the challenge driven by their very supportive fanbase and home cooking? Jaeda Hunt is the prohibitive favorite to sweep the 100/200m and challenge in the Long jump. Ja'Milyah Poole is the top 400m runner in AAA, and #2 in 300h. Isis McVay is also a weapon in the 300h, 100h and TJ. Its going to down to miscues and possibly the 4x400 to determine the 2018 champs.
Jasmine Jones of GAC
Greater Atlanta Christian has dominated in AAA in the metro ATL area this Spring. The Spartans have never been more loaded with talent in the sprints, hurdles relays and jumps. They have athletes who've excelled on the national level in the USATF JO/AAU. Aside from losing/adding a key player or 2, its basically the same team who were AAA champs in 2017. Brad Kinser's GAC squads own title belts from 2005, 2009, 2012 and 2017 (besting Monroe by 5 points) Can they repeat.. its going to be very interesting to watch the old outdated manual scoreboards try to keep up event by event. Nia Bown is a threat to win/score big points in the 100/200. Jasmine Jones owns the top times in both hurdles events, Chloe Fair is one of the top rated HJ's in AA and #2 in the 400m at Sectionals. Jada Jones is big cog in GAC's title run, being #2 in the 100 hurdles and #4 in the 100m and a member of both relay squads. I expect GAC to run much faster than ther 4:02 pr in the 4x400 down in Albany.
Bronte Bacchetta and Naima Turbes of Westminster
Westminster, to no one's surprise, will dominate the 800, 1600 and 3200m. Naima Turbes, has been on the national stage this season with very fast times in the 800 and 1600. Senior, Bronte Bacchetta, is a late bloomer in Track from the Lady Cats 'XC sisterhood'. Bacchetta has pr'd in the 800m at 2:13 and is a threat to place behind Turbes in the 1600m. Delaney Graham (an XC runner) strangely, is # 2 coming out of Sectionals in the 200m and could win the 3200m with a pr of only :02 behind Grace Clements of Bremen
Cedar Grove seems to have the upper hand as the final girls team to ascend the podium at day's end. Grace Clements from Bremen will have to fight to repeat as 3200m champ, Sue Ann Morales (former champ) from East Jackson, will do well, to place in the top 3 of the 800 and 1600m races this season, as those races are off the charts now in AAA.

BOYS
Is the worm going to turn down in Albany for the AAA Boys team title? Cedar Grove is going for their 4th consecutive, but Westminster looks on paper to have a real chance at stopping that streak with a more balanced squad. Both schools will be tested by heat, that neither team has trained or competed in this Spring. Its been a while, but Albany, once again will become a furnace.. If the winds do not pick up, everyone will be swatting and eating pesky gnats. No tents allowed and field turf to reflect/magnify the heat and brightness, and no escape from the venue except your team bus (hope it has AC)
Israel Spivey of Cedar Shoals
Cedar Grove's strengths are speed, including the sprints, relays, hurdles and jumps. Cedar is led by sprinter Israel Spivey, who owns the fastest 100/200m times in AAA this season and is a key cog on both relay squads. Keshun Byrd is the top TJ'r in class, expect Jadon Haselwood and Dimitri Cooper to amass plenty of points in both 110/300h events and their relay squads should both be aiming for Golds Saturday. It going to be big for to pick up extra points in the 200/TJ from Kortney Cox.
Paris Howland of Westminster (photo by Daniel McCauley)
Westminster's strengths are: of course distance, but now feature Jumps, relays, throws and some sprints ability. Peyton Kendall and Huff could rack up alot of points in the 800m as well. Paris Howland is a threat to double in the HJ/LJ owning the top marks this season for AAA and score in the TJ. Andrew Protiva could score well/challenge in the Pole Vault. The Cats 4x100 squad may be able to claw their way into Finals, but it may come down to how well their 4x400 finishes for a team title.

Liberty County looks like a lock to make the team podium from the virtual meet posted. The Panthers will rely on their speed much like Cedar Grove. Joshua Ferrell is strong in the 400/200, Jaleel Gilbert could pick up points in the 200. Liberty has the top time in the 4x400 (at a home meet) and #2 in the 4x100. They also stand to score in the 110h with Keymiiah Bennett and 300h with Nick Miller.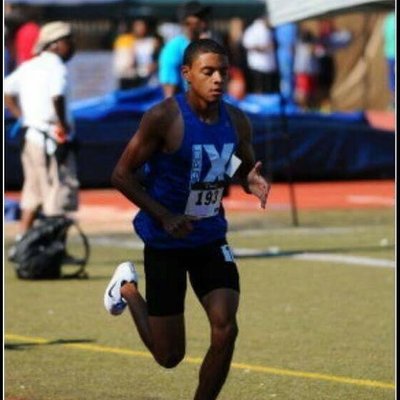 Cameron Taylor of Long County
Long County may be a contender to crack the Podium, behind sprinter Travon Phillips 100/200m, Cameron Taylor is #3 in the 800m and can score in the 1600. Deshaun Dixon could challenge for a top medal in the HJ.
Elijah Compton of Monroe Area
Other schools battling to crack the team podium will be North Hall, led by harrier Devan Crow in the 800/1600 and frosh Andrew Jones in the 1600/3200. Peach County is #1 in the 4x100 and can score in sprints, hurdles and jumps. Monroe Area has a stud in the hurdles with Elijah Compton #1 in class in both events. Pierce County is led by jumper Emmanuel Jernigan.