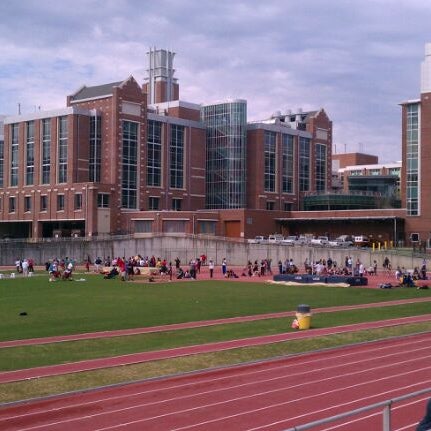 Boys
3200
This year's 3200 has an extremely deep field featuring 40 athletes under the 10:00 barrier!!!!! The favorite is Logan Poteet of Kell High School who is the current state champion in just about everything related to distance running. Potential challengers include Miles Yapp from Brookwood who finished second at state in the 3200m with a time of 9:17 and Ben Bryant of Opelika High School who has already clocked an impressive 9:27 for an Alabama 6A Indoor State Championship this season in the 3200. Another contenders who have been running well as of late could be Owen Bailey, Woodstock, 9:43 PR and Christian Bowles, Lakeside Evans, PR of 9:19.
100

The boys 100 looks to be anyone's game with 4 guys seeded under 10.7. Two of the top 4 are coming from dominant powerhouse rival areas in Alabama. (Huggins from Opelika and Tolbert from Auburn). The top seed is Warren Coombs from Greenbrier and rounding out the top 4 is Tyson Spears from nearby Roswell High School.
110 hurdles

The boys high hurdle event is shaping up to be extremely competitive with Martice Moore from McEachern near the top of the field. Moore stood on the State podium in 4th place last year in Georgia's highest classification. In the top 3 is another Auburn athlete, Alex Evans, who placed 3rd in Alabama's state meet in 2014 and is coming off a 2015 State Indoor Runner performance in the 60m hurdles. Evans also competed in last year's Coaches Invitational and place 3rd overall. This year we also have wild card in Robert Dunning from Kennesaw Mountain, who has been off the grid for a couple of seasons but posted some outstanding times early in his career. Should be fun to watch.
Shot-put

This year's field of boy throwers will definitely be fun and exciting to watch. With no clear favorite, there should be plenty of intensity as these talented throwers compete for the top spots at this prestigious meet. A few returners from last year who will be atop the competition are Robert Moore from Auburn High School in Auburn, AL. Robert is returning for his 3rd year at this meet and hopes to better his 3rd place finish last year at the Coaches Invitational. He is coming off of 50-9.5 foot throw last week in the SSHS Panther Relays and seems prime to take a good shot at 1st place this weekend. Other top contenders include talented thrower Chuck McConville of Union Grove High School who is also coming off of a 50-9 foot throw last week, along with Rod Trujillo of Sprayberry High School who is looking to better his 6th place finish in 2014 and has already thrown over 50 feet this season as well.
Triple Jump:
Caleb Roberts is a consistently great jumper to watch. Posting top marks in all meets he's attended, he jumped a career best jump of 43'8 at the Alabama Striders Indoor Classic on January 18, 2015. This jump currently ranks him #4 in Georgia. Alex Evans of Auburn is a top jumper in the state of Alabama. His furthest jump of the year (43'9.5) was achieved at the Alabama 7A Indoor State Meet on February 7, 2015.
Long Jump
This year's Coaches Invitational boy's long jump event will have at least 13 jumpers, who have marks of 21 feet or better. The top SIX entries have jumped at least 22 feet or better in previous meets. These young men are Jacob Battle of New Manchester HS, Tyson Spears of Roswell HS, Cornelius Scott of North Cobb HS, Alex Evans of Auburn HS, and Sam Jackson of McEachern HS. There are another 7 jumpers, who come into meet with marks of 21 feet or better.

High Jump
The season is early and not many meets yet but starting to see some real competition but as evidenced last year things really get interesting once it begins to warm up. Here are three of the top jumpers entering the competition.
Jonathan Mays, New Manchester Sr.- Great to watch this converted baseball player develop last year into a real State threat in the high jump. Comes into the meet with a PR of 6-10.
Robert Dunning, Kennesaw Mountain, Sr.- Robert is an exceptional multi event athlete with a PR of 6-8 and is the defending Coaches Invitational Champion. Coming off a recent win at the Milton Invitational Showcase.

Kedar Chambers, Parkview Sr.- a newcomer this year who is progressing quickly with a couple of early wins and a PR of 6-6. Will be interesting to see how he continues to progress.

Distance Relays

This annual event always brings out the best in all the distance teams in the State!!!!! This year will be no exception and will feature some outstanding teams that will produce numerous lead change and outstanding performances!!! The boys 4 x 16 will feature some major talent with Auburn HS who as the top seed and is coming off a 7A Alabama State championship in XC and an impressive Indoor track season. The 2nd seed will be Hilton Head, third seed will be Opelika who finished as the State Runner-up in 6A for Alabama. Georgia's also well represented with 4A State XC champions St. Pius, and 6A state Champs Marietta.

Walton has the top 4X800 time in Georgia right now but with the increased competition of the meet several teams could flirt with 8:00. Look for Milton, Brookwood, Auburn and Smith Station to all be impressive. Watch out teams as the State's top performer so far in the 800, Miles Yapp, has already run 1:56 and could setup an impressive finish that.
Sprint Relays
Auburn has posted the fastest 4X100 this season and is coming off a State Championship in the Alabama 7A Indoor 4X400 but as always McEachern should be a contender with their season best of 42.54 4X100 and 3:23 4X400 . Grayson 4X100 (42.67) and Marietta 4X400 (3:27) and Roswell 4X100 (42.6) have also looked impressive in the early season and be in the mix.
GIRLS
Pole Vault
This year's Coaches Invitation at Georgia Tech will feature most of the State of Georgia's best Pole Vaulters for 2014. The competition for the girls and the boys is an excellent preview of this year's State Championship Track Meet and the top marks for the Girls event is 13'-6" and for the Boys is 14'-6". Come out to see and support the strongest pole vault competition of the year. Mitt Conerly (Central HS) is the top seed this year but will be challenged by William Stuart (Westminster) and Hayden Williams (Auburn). On the ladies side, State of Georgia leading vaulter Carson Dingler (First Presbyterian) has the top seed at 13'-6" and will be the one to catch. Becky Arbiv (Weber), Shelby Smith (Kennesaw Mountain) and Alexa Johnson (Sequoyah) all have been impressive through the early part of the season and will make for an exciting competition
Triple Jump:

Leading the pack in the girls' TJ is Bria Matthews. On January 31, 2015, the Georgia Tech signee posted a leap of 40'2.5 at the Vanderbilt High School Invitational; making her jump the #1 triple jump in Georgia, and the #5 jump in the nation. Next, we have Kennedy Brown. Brown had a strong performance at the Alabama 7A Indoor State Meet with a jump of 37'6. This stellar performance ranks her with the #4 jump in Alabama this year. The next jumper on our radar is Priscilla Womble. Womble has consistently posted 35 and 36-foot jumps over the past two years of competition. Her career best is 36'11.5.
High Jump
This year's group is an interesting field with at least 20 jumpers over 5-0 but with a pretty balanced field there are three jumpers to really keep an eye on.
Camille Fahrnbauer, Creekview Sr.- Camille is the defending 5A State Champion with a PR of 5-8 and she comes off a recent victory at the Milton Invitational Showcase.
Mary Terry, North Oconee Sr.- a multi-events star and UGA signee, Mary is the defending 3A State Champion and also was the USATF Junior Olympic National Champion last summer.

Sydne Wiggins, Harrison Soph.- one of the more intriguing competitors and current State leader with a 5-7 PR. Super Sophomore coming off a recent win at the Wolverine Track Invitational.

Long Jump

In this year's edition of the Coaches Invitational, the girl's long jump competition should be highly contested. Led by Kyra Atkins of JL Mann HS and Aaliyah Bolware of Opelika HS both of them have jumped over 18 feet in previous meets. They will be closely challenged by the following young ladies: Camille Franks of Auburn HS, Diondra Larkin of Opelika HS, Alonie Sutton of Smith Station HS, Chloe Tillis of National HS, Kennedy Brown of Smith Station HS, and Bria Dean of North Springs HS. They all have made jumps of 17 ½ feet or better in their careers.
3200
The girls 3200 looks like an exciting race as well! After winning the 6A State Championship in the 3200 last spring then finishing 2nd in 6A State XC Championships Avery Bussjagger looks to be the favorite going into this race. Hilton Head 3A State XC Champion, Mallory Liggett, 18:37 5K and Serena Tripodi, Lovett, State 3A XC Champion could contend along with Kingsley Green, Etowah HS, 11:04 PR, Shannon Fair, Aquinas, 11:07 PR, and Alexandra Melehan, Woodstock, 11:07 PR.
100

The Girls 100 looks to be extremely exciting highlighted by some of the fastest girls in the state and nation, both coming from Cobb County. Dunmore from McEachern comes in with the best seed time of 11.83 and beat Glenn, from host Pope HS, last weekend. Glenn has the potential to be under 12.0 so it should be a battle. Other speedsters to watch include: Anika Carter, New Manchester
100 hurdles

The girls hurdles are highlighted by two athletes both from J.L. Mann in South Carolina. Kelsey Heyward and Kyra Atkins come in at 14.23 and 14.30 respectively. We know these two battle each other every day at practice and we are anxiously excited to see which one will come out on top this weekend. We also have another out of state contender from Auburn. A'Kasi Frazier is close behind the Mann teammates with a best of 14.7
Shot-put
This year's group of throwers is very competitive and should be a throw by throw battle for first place. The girl's field is led by the defending GHSA AAAAAA Shot Put Champion (with a throw of 41-9) and 2nd place discus thrower Leena Morris of Etowah High School. Leena brings an extensive throwing resume, hard work, and a great attitude to the throwing world and will be the one "to beat" if she performs as capable. The top contenders for female throws are Nia Seldon of Marietta High School who is coming off of a PR Shot Put throw of 41-9 last weekend at the Friday Night Lights meet, along with Sabrina Gaitan from Sprayberry, and Abigail Rogers of ELCA.
Distance Relays

There is nothing like the annual Friday night 4X16 for great competition at Georgia Tech.
This year's girls 4 x 16 will be no exception as Northview is the top seed after winning the 6A state championship in cross country this fall. They should be followed closely by South Forsyth who finished as state runner-up in 6A. Hilton Head HS posted the fastest cross-country average 19:12 as they took the South Carolina State championship in 3A. There will be a host of other talented teams that could challenge with the likes of Walton Brookwood, St. Pius and JL Mann The 4X800 will feature a number of quality out of State teams of Smith Station and JL Mann but they will have their hands full with South Forsyth who has already run 9:54, St Pius 10:01 and Grayson 10:02.
Sprint Relays
Again, McEachern should be dominate in the sprint relays after turning in several of the State's/Nation's best 2015 times thus far 4X100 (47.74) and 4X400 (3:50) . Could North Springs 4X400 (3:55) 4X100 (47.77), New Manchester 4X400 (4:09), JL Mann 4X100 48.15 or Smith Station (4:07) get on a roll and create an upset or push McEachern to run even faster?